From the Mechanic's Wife
A Blog About Auto Repair in Simple Terms
Dear Reader,
Hello, my name is Bethany and I'm the wife of Andrew, owner and lead technician at Marinelli Auto Service. I've learned a lot about cars and auto mechanics from being married to a mechanic and, more recently, working with him at the shop.
Before meeting Andrew I would go into a repair shop I was intimidated, to say the least. I never knew if I was making the right decision or if I was being being treated fairly. I now know I made some mistakes during that time. Luckily, I no longer have to worry about the work being done on my car.
I hope my insight will help you be able to walk into an auto repair shop and feel confident in making decisions about the care of your vehicle.
-From the Mechanic's wife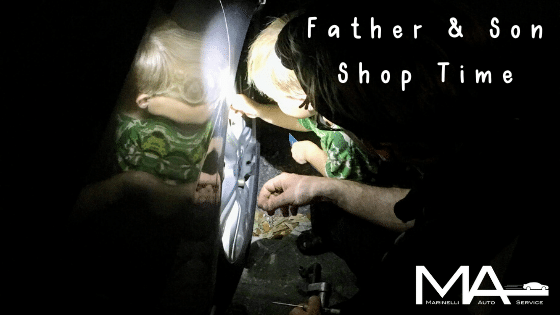 "Daddy!" the boy squeals as he flies into the shop, wrapping his arms around his father's legs.
"Arthur boy!" his father exclaims.
"Walk, please!" his mother warns…for the millionth time.
"Can we do shop time, Daddy," Arthur asks.
"That sounds great! Beth, is it ok with you if we have shop time after we close today?" Andrew asks with the "you know it will be good for him" look in his eyes.
read more