On a chilly morning in early January, I popped in on Don Kirkendall at his office at Kirkendall Insurance to ask him about his car. I have a unique relationship with Don because, not only does his company provide our Garage and Liability Insurance, but he's also a customer.
He's not just any customer, though. He is steadily working on restoring a 1984 5.0 GT Ford Mustang Convertible and is very enthusiastic about his confidence in Marinelli Auto Service to serve him well. In fact, many times he comments on our Facebook posts with, "I won't let anyone else touch my Mustang!"
---
"I won't let anyone else touch my Mustang!"
---
We're glad he feels that way, because we won't let anyone else handle our insurance! The truth is, Don cares about his car and we care about Don, and that's why we also care about his car.
Why a 1984 Mustang Convertible?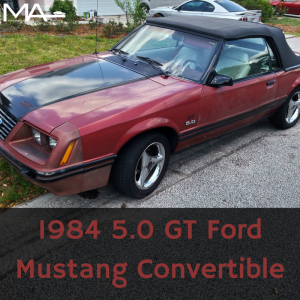 When I asked him why he bought this particular vehicle, his response was sure, "There was one right down the street that was actually in a little better condition [than the one I bought] and I stared at it for a month. I'm thinking 'I'm gonna get it, I'm gonna get it, I'm gonna get it,' and of course, the day I drive down to get it, it was gone the day before. Never fails."
So Don waited, played around with a motorcycle for a while and it didn't really tickle his fancy like the Mustang did, so he sold it and finally purchased a Mustang. "It's not something I would want to drive every day, especially because of the horrible gas mileage it gets, but it's fun. It's a work in progress." Every time he does a little bit of work on it, the more excited he gets about it.
I also found out that the significance of it being manufactured in 1984 wasn't really significant to him…until it was.
"I wasn't paying attention [to the year] at the time, because if I had to do it over again, I'd have an '87…well, '87 and up. All the parts are there, it's just fantastically easier to get them for '87 and up. The other one I looked at was a '91 and so, really, I wasn't paying that much attention to what year it was. I wanted a fox body, so that made that easy.
"Now what's comical is all the things that are happening to me, based on 1984. All of a sudden there's a song and you're like, 'oh, I didn't remember that,' and you were in a certain place, or you moved that year, or something and it's comical how many things revolve around that."
I then ask him if he knew that Andrew (my husband and owner of Marinelli Auto Service) was born in 1984. "No, I didn't know that! That's funny, working on a car made the year you were born! So about the time he would have hit high school, that would have been a really popular car with a lot of people."
Family Time in the Mustang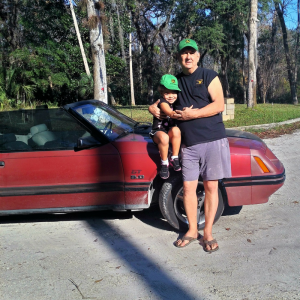 For Don, cars aren't just a get from one place to another. Yes, he has a newer reliable daily driver, but the weekends are for "putzing around" in one old automobile or another. When I asked how his wife felt about all these old cars he tells me, "She's been through this before." He owned a 1965 Triumph Spitfire, then got a 1959 Edsel Wagon, and then came the 1984 Ford Mustang Convertible.
Owning these cars aren't just about "putzing around," though. He likes to take his grandchildren to car shows, and eventually plans to exhibit his Mustang once the renovations are complete. He enjoys having conversations about what he's done on the vehicle and what he plans to do. But mostly, he enjoys the time it affords him with his family.
---
I try to drive it every weekend.
---
"I try to drive it every weekend. Convertibles are like boats, you want to let it get exercise. On Saturday, I'll take it over to the office or, if there's a car show, my granddaughter and I will take it there. I haven't gone very far with it, yet because my confidence isn't there, yet. I was really glad when the guys [at Marinelli Auto Service] did the brakes because it would go a lot faster than it stopped."
Investing in The Fun
As much as Don enjoys the fun aspects of having an older vehicle, he also wants to be able to know that the people riding with him are safe and wants to be wise with his investment. He doesn't claim to know everything there is to know about his car.
"You've gotta find a good mechanic that understands what you want to do. I'm a big believer in, once they start taking it apart, to fix whatever needs to get fixed. Years ago I had a truck. The guy takes it in and pulls the water pump for me and I specifically said to him, 'If you find another problem, let me know.' Well, when I go to pick the truck up, he says, 'You gotta keep an eye on that little hose from the water pump,' and I go, 'Didn't I specifically say to do this?' 'Well, yeah.' Two weeks later, that hose went. You have to take the whole front off the motor to get all that stuff off, and so you're far better off [doing it all at once]."
That's when Don satisfied my curiosity – without my having to ask – why, if he's so knowledgeable and so particular about his vehicles and who gets to work on them, he brings his beloved Mustang Convertible to us.
---
You have to remember, he's looking at everything…and it's a good thing because you want to know those little things.
---
"I was telling someone this morning, 'I took it over there, and I said to Andrew, "Do a complete review of it and tell me what's wrong." I figured I would get back 2-3 paragraphs…and I got back 3 pages! I took it home and I showed it to my wife and said, "You have to remember, he's looking at everything. This isn't a typical guy fixing cars in garages and it's a good thing because you want to know those little things."
We care about Don and Don cares about his car and the memories he wants to make in it with his family, so we do everything we can to give Don the most accurate information we can so he can make the most informed decisions he can. And so Don checks off boxes on the 3 page list that Andrew prepared for him as finances allow, starting with safety concerns, like the brakes, and so on down the list until he finally gets to a point when he'll enter his dear Mustang Convertible in a car show. I think I'd like to go to that car show!
-From the Mechanic's Wife