The risk was big. The statistics were against us. A mechanic may be a strong mechanic but can often be a weak businessman. Andrew knows his stuff when it comes to the cars and won't claim to be a great businessman. He is like one of our son's favorite books – The Little Engine that Could. Andrew is committed to rise to the summit no matter the effort. 
Andrew's perseverance is largely why he's built a solid reputation as a knowledgeable mechanic – Andrew won't rest until he is confident in how to fix it right the first time. A vehicle returning for the same problem is not an option. He won't have it, and it shows in the miniscule percentage of vehicle come-backs we've seen since we opened in 2015.
Our six years of business have been both exciting and challenging. We were told that the first three years are the hardest and if we make it past 5 years we will most likely succeed. In the first year we built a strong client base and structure. The next two years are what make or break you. Maintaining that client base, continuing to improve our structure, stewarding our income well and making a liveable profit kept us moving forward despite encountering many challenges. We continue to grow, but the struggle has been real.
Rock Slides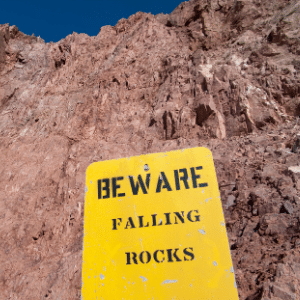 The Little Engine is heralded because, despite being little, he was still able to help the other train up the mountain, but it's more than that. In my numerous trips winding through the Rocky Mountains' tight S-curves, the added element of danger became apparent in the signs that say, warn about potential falling rocks. We've encountered some falling rocks in our business and family…and some outright rock slides. I am amazed we survived them all.
Our son was born in 2017, and I had planned a three-month maternity leave. However, I developed a serious case of septicemia which left me hospitalized for three weeks and, in my recovery, I wasn't able to contribute to the shop as planned.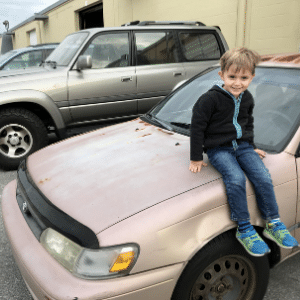 Halfway through 2018, our shop landlord tried to evict nearly all of the tenants in our building. Theyfloundered in their reasoning and eventually we were able to work out a new lease. Rent increased substantially, but our perseverance and commitment to our clients saw us through.
At the end of 2018 our one employee left us suddenly and was a big setback. (Note: If anyone here has let you down at any time, please contact us. We would be happy to listen.)
We had to fill the client services position fast, so in 2019 I had to jump in at a moment's notice and put our son in early preschool. In the weight of the change (and other challenges shop aside), I began struggling with mental illness, affecting my work. Andrew continued to power through and to be a rock to our family and business.
We are very grateful for the local community we have supporting us, including those who have chosen to trust us with their vehicles. We continue to build relationships with them and do everything we can to care for them well.
A Turn in the Right Direction
We turned a corner in 2020. The road straightened a bit, and the incline wasn't nearly as harsh.
Andrew and I hired Victoria to take over client services and have really enjoyed working with her. If you haven't worked with her already, you will be glad when the time comes!
Also, Mike, a dedicated former employee asked to come back on a part-time basis to help grow the business through improving policies, processes and potential areas of expansion.
We've never wanted to be a family with two full-time working parents, so I have stepped back to part-time and focus on my strengths in relationship building and communication to build our client base. I'm better able to care for my health and our family. I've been a better mom and I've been able to support Andrew better as a wife so that he can focus on the shop so that his time is better distributed. Andrew is the chain that binds us all together.
Then COVID-19 came along. We know this hurt everyone – especially small businesses. Thankfully, with auto repair being an essential service, we haven't really missed a beat. Though stay-at-home order reduced people's driving habits and business became slow which was worrying. However, as the stay-at-home order was lifted and safety measures have been implemented in public areas, people began driving more and business picked up. We're making it through!
The Other Side of the Mountain
Despite the challenges we've faced, we are committed to continue providing a quality-focused service based on trust, honesty, and fairness. Over the years, we've added to the services we can provide in-house. We've improved on our business processes and efficiency. You have made it worth the effort by continuing to trust us.
Many people come to us feeling frustrated by past experiences in auto repair. They feel overcharged and undervalued. Andrew and I know that once you find someone with whom you can build trust to meet expectations, to treat you well, and fix your vehicle the right way the first time, you want to be able to go to them for everything. Our goal has been to be that shop that you trust for all of your needs – from oil changes and tires to in depth testing and major repairs.
That's also why we strive to go beyond just fixing the vehicle by continuing to improve upon our client services. From the first phone call to the repair and maintenance plan, to budgeting, we want you to feel cared for because we care about you.
We have some lofty goals for the future as well. Andrew has been dreaming for years about adding loaner vehicles to our list of services. Hiring another full time mechanic would increase our efficiency and allow Andrew to focus more on improving the business. One day, purchasing our own property would help expand our services. Everything we do goes back to our vision of building trusting relationships through honest communication, quality-focused automotive repair, fairness in practice, and kindness in action.
Despite all of the challenges we've faced over the years, we continue to build and grow in a positive direction. Owning a small family business is hard – especially in a rough and tumble industry requiring hard manual labor, automotive smarts, and a society that has a general feeling of mistrust of mechanics. We believe our business is making a positive impact in this industry by taking the road less traveled.
If you recall, the reason the little train needed to get over the mountain was because it carried "dolls and toys and good things for boys and girls to eat." The Little Engine that Could allowed that to happen. His Good Samaritan-like service benefited many. Just like the train, we're not just in this for ourselves. We are in it for the greater good.
We have been delighted to build trusting relationships with so many of you who have, in many cases, become friends and a part of our supportive community. It means the world to us when you tell friends and family, "Andrew Marinelli is my mechanic. You should bring your vehicle to his shop!" More than just meeting new clients, we truly appreciate the trust you have in us to send us someone you care about. That's the kind of business that we've set out to run, and we plan to keep traveling that road.
---
Marinelli Auto Service is an auto repair shop in Winter Park, Florida. We've been serving Central Florida since 2015. We provide maintenance and repairs for a variety of makes and models.